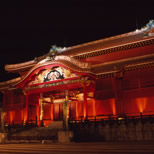 Shurijo Castle (Chikada)
Shurijo Castle is the world's cultural heritage. We had to begin by considering the light fixture installation methods because we were not allowed to dig in the ground in this historic preservation zone.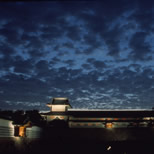 Kanazawa Castle Park (Nozawa)
We achieved to create gentle Kanazawa atmosphere by lighted windows and dramatic illumination with strong shade and shadow for the restored Kanazawa Castle.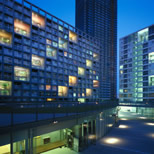 Shinonome Canal Court CODAN (Nozawa)
I enjoyed the opportunities to meet many people in this 7-year project. I was very pleased to see many night scenery photographs were applied for the photography contest held after completion.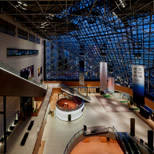 Tokyo Metropolitan Theatre Renovation (Nozawa)
The theatre got a big makeover from a somber atrium just like a concourse to a dramatic theatrical space where people can enjoy music concerts and plays.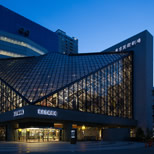 Tokyo Metropolitan Theatre Renovation (Nozawa)
We succeeded in highlighting the 25m-high glass-walled atrium by sharply outlining its structure with narrow spotlights. It became a new landmark in Ikebukuro Station's west exit area.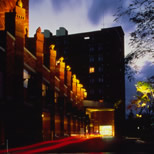 Hokkaido Hotel (Chikada)
I remember well that I enjoyed a sense of satisfaction of staying in Hokkaido through fine dishes, open-air spa, and beautiful green garden view from the hotel room rather than the difficulties I went through in lighting design tasks.
Statue of Takamori Saigo and Ueno 3153 (Nozawa)
Interior indirect lighting and green façade illumination created vibrant atmosphere for Ueno3153. In the roof terrace, we illuminated the statue of Takamori Saigo.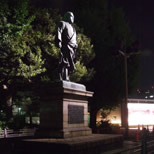 Statue of Takamori Saigo (Nozawa)
We accentuated the dignified look of Takamori Saigo by illuminating the statue with LED light changing its light color from "evening sun warm color" to "moonlight cool white color". The spotlight is set on the 12m-high pole in the Ueno 3153 roof terrace. It became a new sightseeing spot at night.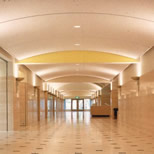 St. Luke's International Hospital (Chikada)
When the hallway of St. Luke's International Hospital became full of people injured in the Tokyo subway sarin attack in 1995, I sincerely hoped that the hallway lighting helped the doctors make right decisions.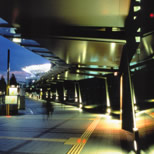 The New Central Zone, Saitama City (Chikada)
We were on a tight budget and tight schedule. We overcame the low expectations for the late joining lighting consultant and proposed a brand new urban lighting plan considering pedestrians' views.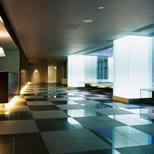 Diana Garden Hiroo (Takanaga)
We conducted many mock-up tests. We gained a good reputation from residents that the luminous pillars turned the small and gloomy lobby into a stylish space.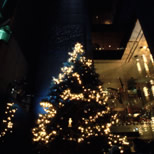 MIKIMOTO Christmas Illumination (Chikada)
We once made artificial snow in a beam of light, but we couldn't continue it on the second day because too many people gathered. We designed Christmas illuminations for many years and how romantic they were!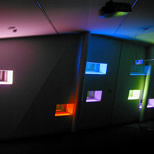 Re-Tem Corporation Tokyo Factory (Takanaga)
It is a unique architecture in the deserted factory zone. Is it an art space with colorful lighted windows? The factory had been featured in the mass media, and I believe we designed new factory lighting.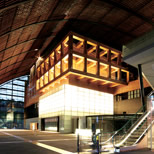 Kyushu National Museum (Chikada)
Good-bye to a fusty museum. You can experience "past" and "future" in the exhibition. It is a place to learn from past for the future of Japan as a member of Asian countries.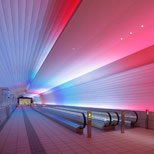 Kyushu National Museum (Takanaga)
The passage with color-changing light is "a time tunnel". Everyone, both adults and children, can enjoy thrilling time warp.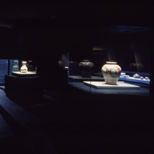 Kutaniyaki Art Museum (Nozawa)
Akae/Kinrante (red enamel decoration), Aote (green enamel decoration), and Iroe/Gosaite (green, yellow, blue, purple, and red decoration) masterpieces showed up in fiber optic lighting. It was a major discovery that kutaniyaki looked totally different depending on light colors and brightness.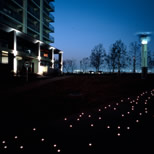 Heart Island Shinden (Takanaga)
"Ripples of light" is a new experience of light and wind that is very popular among children and neighbors walking their dogs in the riverbed.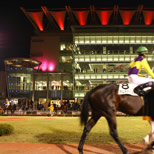 Ohi Race Track (Tokyo City Keiba), L-Wing (Chikada)
Before starting lighting design, I bought a betting slip for the first time in my life. My dream of getting rich quick was shattered in a moment but it was so exciting and thrilling!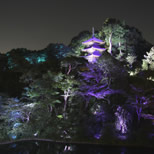 Hotel Chinzanso Tokyo (Takanaga)
Chinzanso garden is admission free. You can enjoy cherry blossoms, fireflies, autumn leaves, and snow scenes. Please visit the garden to see various illuminations throughout the year.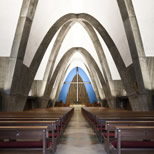 Rikkyo Gakuin St. Paul's Chapel Renovation (Hiramatsu)
The chapel has a sobering atmosphere. The cross is illuminated at all times, even when there's no classes and worship services, to warmly welcome the worshipers.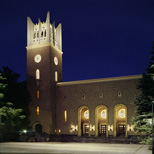 Waseda University Okuma Auditorium (Nozawa)
Illumination for the Okuma Auditorium renovation celebrating the 125th anniversary of the school became softly gradational and tranquil with our custom-designed filters for spotlights.